When it comes to network security, it is easy for small to medium sized businesses to say...
        "not me", "they are only after the big guys"
The reality is that attacks on all networks have been increasing year after year as hackers have become more sophisticated, and small businesses are being affected everyday by relaxed or non-existent security policies.
"A business will fall victim to ransomware every 14 seconds in 2019, and every 11 seconds by 2021"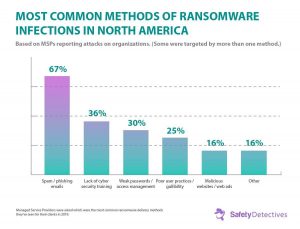 Ransomware is among the worst types of infection, as it not only encrypts network data, but in the end may cost victims all their data – even if they pay the ransom. It should be a priority for all businesses and organizations in 2020.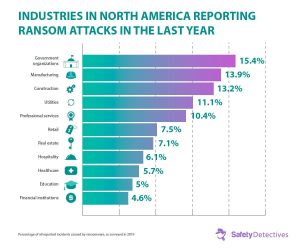 There are a number of ways WJP Technology Consultants can help to ensure that you are at minimum risk by subscribing to our "Total Security Package":
27/7 Remote Monitoring/Patch Management - By keeping your computers and network equipment updated, is one of the most effective steps to preventing a possible network security issue.
Firewall - A common mistake in small to medium business networks is the lack of a business grade firewall solution. Often business owners are unaware of the difference between having a network router and having a network firewall in place.
Passwords - Password and password protection are proving to be an area that needs attention when discussing network security. Using sophisticated software and tools, hackers are easily gaining access to small business networks through simple or default passwords.
End-Point Protection - Most people know that antivirus and anti-spam software are necessary components of network security, but many people don't realize why its so important until their computer or network is infected with a virus, malware, spyware, or a host of other potentially dangerous issues.
Email Filtering - A way to blocks spam, viruses and volume-based attacks BEFORE they reach your internal network.  Ability to monitor all incoming email traffic, as well as outgoing by sending through servers that are update real time for all know issues.
Web Site Filtering - Internet security solution that extend Malware Protection and Web Filtering to user's web access, by routing all web traffic through proprietary DNS services that ensures all sites accessed are secure.
Dark Web Monitoring - Using the industry's first commercial solution to detect your compromised credentials in real-time on the Dark Web by using a proprietary technology.  ID Agent vigilantly searches the most secretive corners of the Internet to find compromised credentials associated with your company, contractors and other personnel, and notifies us immediately when these critical assets are compromised, before they are used for identity theft, data breaches or other crimes.
ID Theft & Credit Monitoring - Comprehensive Personal Identity Monitoring Solutions to protect organizations and their employees.
Security Awareness Training - Security Awareness Training offers comprehensive and affordable cyber-security education for your staff. Training consists of simple, easy-to-run courses and campaigns that minimize user-generated risks and help reduce infection rates, thereby driving down your remediation costs and reducing the overall risk to your business.
No matter the size of your business, network security is a definite requirement for every business in the digital age. If you are worried or unsure of where to start with an internal security audit, our team can help get you on track.